Recent and Upcoming Events
Here we will try to keep you updated on the activities we as a tribe have going on. Also to inform you of other activities we are invited to or take part in. We need to show our support for others as well.


Check out our Calendar page for all of our events
The Pee Dee Indian Tribe of SC 2016 Powwow
Sat April 2nd
C W Love Sport Complex McColl, SC. 29570
Gates open at 11am
Grand Entry at 12 noon
Closing of the circle at 5pm
Vendors contact us at thepeedeeindiantribeofsc@gmail.com
Adults $5
Children under 6 free

Call Chief Parr if you have any questions 843-544-6464.



PEE DEE INDIAN TRIBE
GATHERING 2016 Will be in Nov

We are having our Gathering on Nov 2016. It will be held on our Tribal grounds. Bring a covered dish, chairs and the whole family. Come on and let's have some fun!!! Any question call our Chief Parr 843-544-6464 or one of your Council Members.
The Pee Dee Indian Tribe of SC Powwow
We are in the planning stages of our 2016 powwow. The Plans at this time is to have it on April 2nd.
2016 Lumbee Powwow
638 Terry Sanford road
Maxton, NC 28364
May 6-8th
Friday 7pm
Sat Noon-7pm
Sun 1pm



Edisto Natchez-Kusso 40th Annual Pow Wow
May 6th 6pm-9pm & 7th 12pm-9pm
Four Hole Indian Organization
Community Center
1125 Ridge road
Ridgeville, SC 29472
Edisto River Singers
Chief Andy Spells 843-871-2126



The Santee Indian Tribe 3rd Annual Pow-Wow
September 17, 2015
432 Bayview Street
Holly Hill, SC 29059
Host Drum-Edisto River Singers
OPEN TO PUBLIC
($5 per person/Kids under 10 and Adults over 65-FREE)
Chief Randy Crummie (803) 308-7991
Vice Chief Peggy Scott (803) 496-2570




PAIA Lower eastern Cherokee Nation SC
9th Annual Pow Wow
Sep 24 2015
9am-7pm
3688 Warrior Creek Church Road
Gray Court, SC
Chief Gene Norris

Native American Cherokee Trail River Festival
1800 12th Street Ext,
Cayce, SC 29033
Open to public
Laura Bailey 803-366-1705




Beaver Creek Pow Wow
2016

OPEN TO PUBLIC
Chief Louie Chavis
Waccamaw Pauwau and Cultural Arts Festival
Nov. 5th & 6h 2016
591 Bluewater Road Aynor, SC 2951
Open to public
Chief Buster Hatcher 843 - 229 - 6751


Prayers have been answered.

On September 25, 2014 at 2:15pm Chairman RC Cummings and I met at the lawyers office to sign the deeds for land that Dr. CW Love and Mrs. Love bought for the Tribe. We are now the proud owners of 15 acres of prime land in McColl, SC. So lets get busy and start working together on the land we own. We are working on getting a grant to help us build on the land. Dr. Love's son Charles is having the land cleared for us on our new land in McColl. Our tribal Chairman Cummings and Councilman Powers went out and marked the trees we would like to keep. Our Councilman Cook is going to help us get a temporary sign put up thanking Dr. CW Love and Mrs. Love for the donation of the land. I would like to say Thank you to a special member of our tribe Sanford Cummings for your labor of love. For all you have done to help bring this forward, by going and locating the site, meeting with the owners to talk on our behalf and work with Mr. Charles W. Love Jr. in bringing this forward. Thank you to each and everyone of you that has prayed and worked on this project. Lastly but definitely not least we would like to say how grateful we are to the late Dr. CW Love for all he and his family have done in support of our tribe throughout these many years. Thank you!!! May God Bless each and everyone! Thank you, Chief Pete Bluehawk Parr

Thank you Christ our Lord and Savior!

+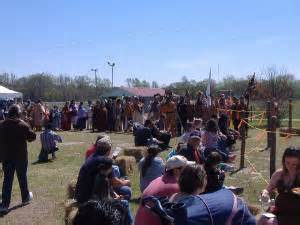 +